The Reproductive Medicine Group - Tampa, Florida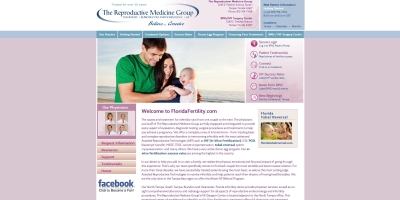 The Reproductive Medicine Group with multiple offices covering central Florida requested a website that they could easily display who they are and what services they offer.  They wanted a hands off website which allows the staff at Website Physician medical website design to cater to their needs.  
Website Physician provides monthly maintenance for their site including adding new pages, assisting in writing content, social media entries, editing forms etc.  Website Physician also provides email and hosting services and search engine optimization for the site.
In 2013, a separate mobile website was completed to compliment the main website.  With the explosion of the smart phone and tablet market, a mobile friendly website has become a necessity. 
Once again, the result was an inexpensive but highly effective marketing tool as well as a perfect piece to accomplish the above goals!
For more information about a simple content management system website in which you and your staff can have full control of with no reoccurring expenses, please contact us at 513-759-4932 or simply fill out our online contact form for a free quote.
Click here to view the full Reproductive Medicine Group website.