Reproductive Assistance Inc. - Egg Donation and Gestational Carrier Agency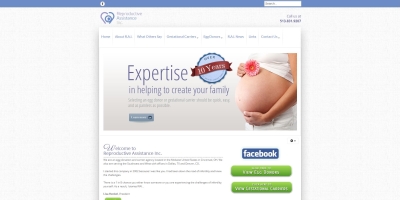 Reproductive Assistance Inc. is a leading egg donation and gestational carrier agency serving areas in the midwest, southwest and west regions of the United States.  They are extremely successful and have their own database of donors and carriers to choose from.  
The owners of Reproductive Assistance Inc. liked the original look and feel of their own html website but wanted to accomplish three things.  
They wanted to be able to update their website anytime at their convenience without knowing html.
They wanted a blog feature on the website
The finally wanted a website that would be "Responsive" so that all devices could see the website properly.
Website Physician took their old look and feel which was still fresh and apply it to a CMS website.  The website template was made so that it would resize to the device in which was being used to view the website.
Finally, with the website being a content management website, the staff at Reproductive Assistance Inc. can easily update all of the content which is on the site from any computer or even tablet connected to the Internet. Website Physician provides medical website support and maintenance services as well as search engine optimization for the site.
For more information about inexpensive doctor's office website design built with a content management system in which you and your staff can have full control of with no reoccurring expenses, please contact us at 513-759-4932 or simply fill out our online contact form for a free quote.
Click here to view the full Reproductive Assistance Inc website.