Oregon Spine Care - Dr. Tatsumi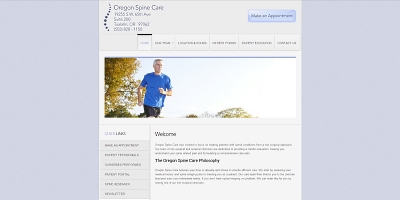 Oregon Spine Care came to Website Physician looking for an inexpensive medical website for a newly organized practice. The object of the project was to create a simple yet professional content management website that would be easily updated by in house staff members as well as offer the latest in website technology.  Another goal was to build a site that could be easily expanded with a patient portal, video library, patient forms etc. in the future.  
WebsitePhysician.com created a professional medical website that should allow the practice to reach their goals for years to come!
To view the full website, please click here.