OU Physicians Reproductive Medicine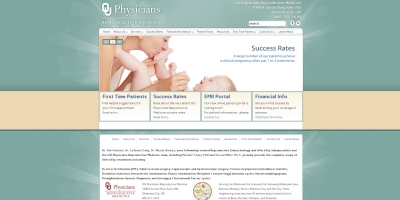 The staff at OU Physicians came to Website Physician medical website design in an effort to separate their practice from the main OU Physicians website.  The goal was to give their customers a specific website that provides information about their services, practicing physicians, upcoming events, patient portal entrance, blog and forum.
The result was a content management system (CMS) website that is a highly effective marketing tool as well as a perfect tool to accomplish the above goals!
For more information about a simple content management system website in which you and your staff can have full control of with no reoccurring expenses, please contact us at 513-759-4932 or simply fill out our online contact form for a free quote.
Click here to view the full OU Physicians Reproductive Medicine website.