Florida ADHD - Dr. Jeff Bauman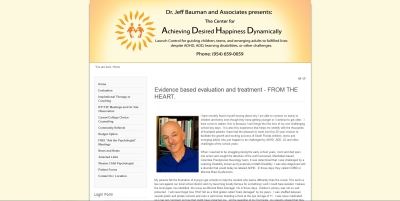 Dr. Jeff Bauman is a leading child/family psychologist serving the greater Weston, Florida area.  He had Website Physician design his practice website www.WestonChildPsychologist.com many years ago.  His goal was to develop a new medical content management website that focused on one of his specialties which was ADHD diagnosis and treatment.   
Dr. Bauman wanted to be able to access the content at any time and add new stories, news and events.  He wanted "Fresh" content at all times on his website which will increase his search engine rankings.  He also wanted to highlight a topic which he specializes in and also a topic which is very important to children/teens and parents alike which is ADHD.
The result is an inexpensive medical website that accomplishes the above and more including a secure HIPAA compliant medical contact form.
With the website being a content management website, Dr. Bauman can easily update all of the content which is on the site from any computer or even tablet connected to the Internet. Website Physician provides hosting services and search engine optimization for the site.
For more information about inexpensive doctor's office website design built with a content management system in which you and your staff can have full control of with no reoccurring expenses, please contact us at 513-759-4932 or simply fill out our online contact form for a free quote.