Center for Reproductive Medicine - Infertility Alabama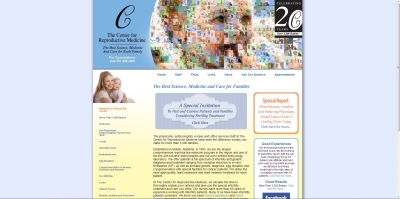 The Center for Reproductive Medicine has been a partner with Website Physician since 1999.  The practice recently had a professional brochure created and it was their desire to match their website to the design.    
At Website Physician, all of our websites are custom built which allows us to go above and beyond the normal template website design. The result is a brand new website that is branded with all marketing materials at the practice.
The new website has been optimized to be found on top of the natural rankings of search engines using keywords that actual customers use.
Website Physician provides monthly maintenance for the  site including adding new pages, assisting in writing content, social media entries, editing forms etc.  Website Physician also provides hosting services for the site.
This website is a leader in the medical field in both ease of use as well as search engine optimization.
For more information about a custom designed medical website that will lead your competitor in search engine rankings, please contact us at 513-759-4932 or simply fill out our online contact form for a free quote.